Is Hairline Feminization Surgery Right for me?
WE ACCEPT ALL PRIVATE INSURANCES
Hairline feminization is another option when it comes to aligning your outer appearance with your inner self. It is one of the components often mentioned with Facial Feminization Surgery (FFS) and is reshapes your hairline for a softer, more feminine look. There are several possible methods by which this can be achieved:
Hair transplants to reshape your hairline (a non-surgical procedure).
Hairline lowering (a surgical procedure).
Forehead lowering and hair transplant (a combination procedure).
A combination of all of these (a combination procedure).
At Allure Esthetic Plastic Surgery, Dr. Javad Sajan supports you in choosing the the hairline feminization procedure that will work best for you.
Hairline Feminization Surgery | Gender
Affirming Hairline Advancement
The hairline helps frame the face and can come with gendered assumptions that may contribute to gender dysphoria. Hairline feminization refers to the general act of feminizing the hairline. The exact surgical procedures or techniques used to do this will vary based on the patient's existing hairline, goals, and how much the hairline needs to advance. Dr. Javad Sajan performs the best hairline feminization surgery.
The Differences Between The Male & Female Hairlines
The most obvious difference between male and female hairlines is that people assigned male at birth will likely see their hairline recede with age. The amount it recedes will vary based on the patient's genetics. The female hairline usually does not recede, but they may see some hair loss and thinning along their temples and hairline. However, women do not lose all of the hair in these areas and therefore it is less noticeable.
The next difference is the shape of the hairline. Firstly, male hairlines tend to be further back in general. With age, it will likely recede into an M shape which is the standard pattern of loss for most men. A woman's hairline tends to be more rounded and maintains a round or oval shape their entire life. 
The female hairline is closer to the eyes, but a common misconception is that all women have low hairlines. This is not true. Many cisgender women have high foreheads without looking masculine. Therefore, when feminizing the hairline, it is usually lowered, but not always dramatically. Based on the patient's existing hairline, Dr. Sajan will create a natural, feminized version of the patient's natural hairline.
The Hairline: What's Involved?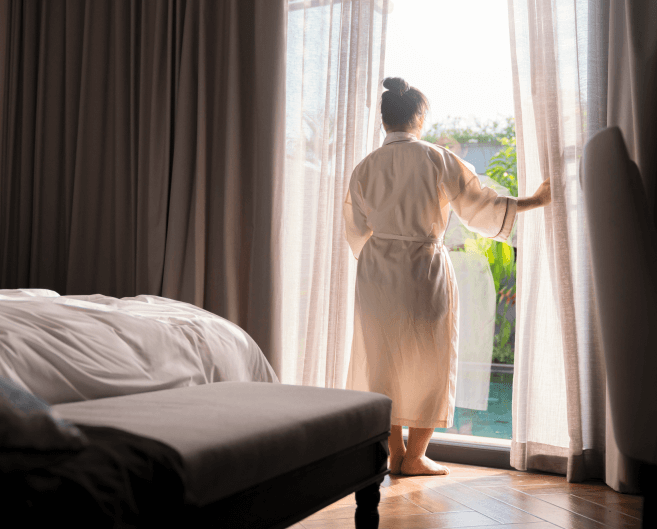 There are two procedures most commonly used to feminize the hairline: hairline advancement or lowering and hair transplant. Patients may undergo either procedure or a combination of both to achieve their final feminized hairline.
Hairline advancement—also known as hairline lowering—surgically lowers the hairline by removing a small amount of skin on the forehead and lowers the existing hairline to meet the lower portion of forehead skin. Frequently, this is combined with a brow lift. In larger procedures, it is often called a forehead reduction surgery because it will reduce the overall height of the forehead.
Most of the time, scarring will eventually be covered by new hair growth. Though, visible scarring is a risk with this procedure. The incision is also hidden at the transition between skin and hair which can help disguise it as well.
The hair transplant process works exactly the same as it does for cisgender patients. Donor hairs from the back and sides of the head are identified and removed using the punch FUE method. This minimizes pain and trauma to the scalp. Patients can also be awake during the hair grafting process.
Hair transplant surgery can help fill in areas not addressed with hairline advancement such as the temples or crown of the head. It also can help cover a hairline lowering scar. Since the procedure uses hormone resistant hair, this makes it less likely to fall out over time.
Benefits Of Hairline Feminization
Hairline feminization—while it may not be the first procedure someone thinks of when considering FFS—comes with many benefits for trans women. Some of the possible benefits include:
Rounded hairline

Less distance between the glabella and the hairline

Looks natural

May decrease height of the forehead

Helps create a "wispy" hairline

Immediately appear more feminine

Correct any hair loss due to pattern baldness

Bring balance and symmetry to the facial features

Hides the incision behind new hairline

Patients can return to work within one to two weeks

Possible to perform during FFS

Effective surgery

Low risk for most patients

Performed by expert facial feminization surgeon
What To Expect From Hairline Lowering Surgery Results
Whether a patient underwent hairline advancement or hair transplant, the results will take some time to come in because they rely on hair growth. With hairline advancement, patients can expect to see the hair coming back by six months after the procedure. Hair transplant patients can see results slightly sooner, but it usually takes between four and months for the more noticeable hair growth.
With both procedures, shock hair loss is common. This is when hair falls out due to the procedure itself. This is perfectly normal and will not affect future hair growth. As your hair enters new growth phases, the hair follicles should produce hair. Like with all gender affirming procedures, results are not considered final until about a year after surgery.
Is There Any Recovery Involved?
After your hairline feminization procedure, Dr. Javad Sajan and our team will clean and bandage the hair donor site and hair transplant site. While there is little-to-no recovery period necessary following this appointment, there are some post-procedure rules for the days and weeks following:
There have generally been very few reports of pain or discomfort after the procedure. You may, however, experience a little bit of drainage the first day. If so, it is usually minimal.
Be gentle. You can expect your grafts to be raised a little in the first seven to 15 days after your implants. Approximately three or four days after the transplant, these sites will likely begin to form scabs. You will need to be gentle with your scalp for the first two weeks, including when you are showering, and protecting them from wind, sun, your hands, or pressure from hats.
No strenuous activity the first week because that could increase the swelling on your forehead.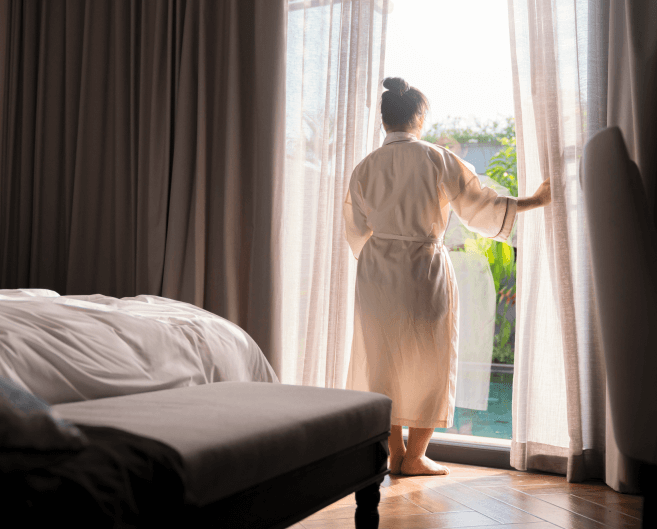 Is it safe, and are there any risks?
When you come to Allure Esthetic Plastic Surgery, you visit experts with over 1,000 patients worldwide, years of experience, and a team dedicated to you. Hairline feminization is an in-office procedure using top-of-the-line technology that Dr. Sajan has selected for its efficiency and success. Our hairline feminization procedures are usually minimally invasive, are FDA-approved and have a short recovery window. Although risks are rare, they include site bleeding, transplant site infection, poor site healing, and hair loss.
Our goal is to make you look and feel fantastic, and the real version of you. Yes! Your new hairline will look natural as soon as it has had some time to heal. The healing process may take a few days or longer depending on your unique physiology.
Are There Non-Surgical Hairline Feminization Options?
Unfortunately, there are not any effective non-surgical hairline feminization procedures. Certain non-surgical hair restoration methods can help, but they cannot restore or build a hairline like hairline advancement or hair transplant. Patients can use non-surgical hair restoration procedures to supplement and maintain results, but surgery is needed to produce the optimal results of hairline feminization surgery.
What Shape Will My Feminized Hairline Be?
Without seeing a patient's hairline, it is impossible to determine the shape of their feminized hairline. In general, a feminine hairline will look more rounder than a masculine one. The exact height and shape of the hairline will mimic the current one. If a patient has a high hairline, the feminized version may remain high.
Certain anatomical factors such as scalp laxity also matter. If the scalp is already quite tight and there is not much room to lower the hairline, Dr. Sajan may use a specialized tissue expander to slowly expand the skin of the scalp. This will allow for better results. Most patients will not require this.
Upon consultation, Dr. Sajan will review the patient's goals and what they want to achieve from hairline feminization surgery. He will craft a customized surgical plan for each indivudal patient. This helps ensure he maintains their unique features (if desired) and that the procedure is done safely.
Can You Have Hairline Feminization During FFS?
Yes, hairline feminization is frequently performed during facial feminization surgery. = Dr. Sajan is one of the few surgeons who will perform a hair transplant procedure at the same time as FFS. The hairline lowering procedure, though, is commonly seen during FFS.
Are The Results Permanent?
Yes and no. It depends on the specifics of the procedure and the patient. For example, hairline advancement is usually permanent. Though, hair transplant may still fall out due to age. However, it is should be noted that since testosterone is often reduced in transgender women, this makes the hair much less susceptible to falling out. Patients can expect their hairline feminization results to age with them and they tend to age well.
The Best Hairline Feminization Surgery By Dr. Javad Sajan
Dr. Javad Sajan is a leading plastic surgeon in Seattle, Washington who is renowned around the world for his gender affirming surgeries and care. Treating patients along all points on the gender spectrum, Dr. Sajan takes the time to understand each patient and their goals. The best hairline feminization surgery by Dr. Javad Sajan at Allure Esthetic.
To learn more and schedule a consultation, call us at 206-209-0988. You can also reach out online via chat or contact form.