Transoral Tracheal Shave Surgery
What is a Tracheal Shave or Chondrolaryngoplasty?
We Accept All Private Insurances
The process of gender transition from male to female (MTF) frequently includes a medical procedure called the chondrolaryngoplasty, more commonly known as a "tracheal shave." This surgical procedure reduces the cartilage of a patient's Adam's apple to create a smoother, less angular, and more feminine appearance. Tracheal shave surgery is delicate and calls for an experienced plastic surgeon like Dr. Javad Sajan.
Transoral Tracheal Shave Surgery | Scarless Tracheal Shave
All people—regardless of gender assigned at birth—have cartilage in their neck that protects the larynx and vocal cords. It also sits atop the thyroid. During puberty, people assigned male at birth may see this cartilage begin to protrude from the neck as the larynx grows and the voice deepens. Some people assigned female at birth may experience this as well, but it tends to be less pronounced and rarer. For transgender women, the protrusion of the Adam's apple—or thyroid cartilage—can cause gender dysphoria. Thankfully, a tracheal shave surgery can help reduce the size of the Adam's apple. Dr. Javad Sajan provides the best scarless tracheal shave offered.
How Does A Transoral Tracheal Shave Work?
Traditionally, a tracheal shave surgery requires an incision on the outside of the neck to access the cartilage. Even when made as small as possible and in the most inconspicuous location, a visible scar is nearly inevitable. While some patients find the scar less dysphoric than the Adam's apple, it can also cause further feelings of gender dysphoria since the scar is a physical indicator of surgery.
Considering other feminization surgeries involve well-hidden scars, it is understandable that patients have concerns about a tracheal shave scar which is difficult to disguise with hair or clothing. A new surgical technique uses an incision inside the mouth to access the Adam's apple and shave it down. This leaves no external scar.
The transoral tracheal shave technique offers benefits to patients seeking gender affirming surgery. Some of the possible benefits include:
Reduce the protrusion of the Adam's apple

More feminine facial contours

Can be performed during facial feminization surgery

No external scar

Less risk for patients prone to scarring or keloids

Help reduce gender dysphoria

Better quality of life for trans women

Can perform chin and jaw surgeries through the same incision

Low risk procedure

Short procedure time

Permanent results

Newest technique for tracheal shave surgery that uses advanced imaging

Minimal post-operative pain

Performed by Dr. Javad Sajan, who has helped thousands of transgender patients via gender affirming surgery
As a trade-off, all surgeries involve some level of risk. For most, a scarless tracheal shave comes with little risk of major complications. Still, patients should fully understand the risks of surgery to make an informed decision. Dr. Sajan also screens patients before surgery to ensure candidacy.
Infection

Asymmetry

Damage to other parts of the trachea

Prolonged or severe side effects

Seroma

Bleeding

Removal of too little or too much cartilage

Complications associated with general anesthesia
Patients rarely see serious and long-lasting complications from a scarless tracheal shave. The average patient has no elevated risks. However, depending on the patient's medical history, some patients may require alterations in the surgical plan to account for increased risks. In other rarer cases, a patient may not be a candidate for the procedure.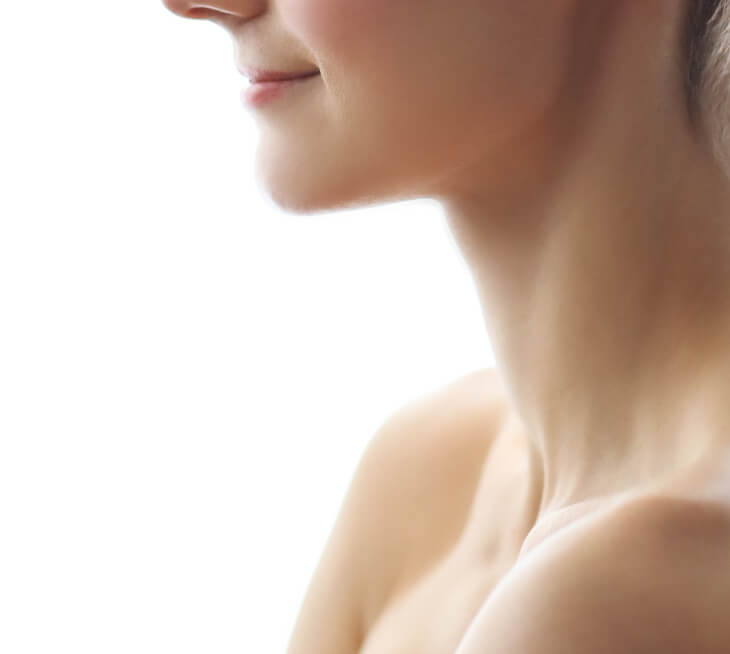 Scarless Tracheal Shave Before & After
First, patients will meet for a consultation with Dr. Javad Sajan. Consultations can take place in person at his practices in the Seattle area or virtually through Zoom or FaceTime. At this appointment, patients will discuss their goals for surgery and history of gender dysphoria. Dr. Sajan will also want to know the patient's general medical history to ensure they are a good candidate for the surgery. Finally, Dr. Sajan will conduct an exam of the patient's anatomy to determine that the transoral technique is ideal.
If Dr. Sajan believes a scarless tracheal shave is beneficial and safe for the patient, he will go on to describe the surgery. Patients will also receive insurance information or financing information if not going through insurance.
Transoral tracheal shave surgery can be performed by itself or in combination with other facial feminization surgeries. It is usually performed under general anesthesia. The incision is made inside of the mouth, usually below the bottom lip and in front of the teeth. From there, Dr. Sajan uses imaging—taken either before surgery or using surgical cameras during the procedure—to navigate underneath the skin until he reaches the thyroid cartilage. 
Dr. Sajan then uses a burr to shave down the cartilage. This creates a smoother and more feminine neck appearance. Once adequately reduced, Dr. Sajan closes the incision inside of the mouth. He can also perform jaw and chin feminization through the same incision if desired.
A scarless tracheal shave recovery is similar to that of a traditional Adam's apple reduction. Though, there are a few differences. First, because the incision is inside the mouth, patients will need to follow a liquid diet for a few days after surgery. Second, swelling after a transoral tracheal shave can sometimes be worse or last longer since more tissue was disturbed to access the Adam's apple. With that said, this should not add significant recovery time or pain.
Dr. Sajan will provide patients with recovery instructions. They can vary between patients based on individual circumstances. However, recovery and aftercare instructions may include:
Sleep with head elevated at roughly a 45-degree angle

Rest voice

Avoid pressure on or around the area

Take prescribed medications

Avoid strenuous activity for at least two weeks

Take around a week off work

Attend post-op appointments
Will My Voice Change After A Scarless Adam's Apple Reduction?
Immediately after a scarless tracheal shave, patients may experience temporary vocal hoarseness or deepening. However, this should improve within two weeks. This occurs due to swelling and fluid collection near the trachea and vocal cords. It is rare for permanent voice changes to occur after an Adam's apple reduction surgery.
Are The Results Permanent?
Yes, once shaved down, cartilage cannot come back. The gender affirming procedure is unlikely to see much change throughout a lifetime, except for expected aging.
Can An Adam's Apple Be Removed?
No, the cartilage of the Adam's apple helps protect important structures in the neck including the trachea, vocal cords, and thyroid. Therefore, while the projection of the cartilage can be reduced, the entire portion of cartilage cannot be removed. Additionally, this would not lead to a more feminine result and may cause a concave appearance.
Is It Possible To Reduce The Adam's Apple Without Surgery?
A surgical procedure is by far the best and most effective way to reduce the size of the Adam's apple. Outside of surgery, transgender women may use makeup or high-necked clothing to disguise the Adam's apple. However, these are only temporary solutions. A tracheal shave is the best way to obtain a smoother neck without a visible Adam's apple protrusion.
How Much Is Scarless Tracheal Shave Surgery?
A transoral tracheal shave surgery with Dr. Sajan starts at $14,995. Patients have the option to use insurance or pay out-of-pocket for the procedure.
Does Insurance Cover Transoral Tracheal Shave?
Yes, most of the time a scarless tracheal shave surgery is covered by insurance and patients only end up paying their deductible. This will vary by plan, company, and location. Dr. Sajan's office accepts all private insurance companies. His insurance coordinators also can help patients navigate their coverage and the process of working to get tracheal shave surgery covered.
The Best Scarless Tracheal Shave By Dr. Javad Sajan
Dr. Javad Sajan is a world-renowned plastic surgeon who specializes in gender affirming surgeries. He frequently performs facial feminization surgery. He is among the first surgeons to bring the transoral technique to the Seattle area and one of the few surgeons in the United States experienced enough to perform the procedure. Dr. Sajan offers the best transoral tracheal shave surgery available.
Dr. Sajan's documentary series showcases the journeys of many of his transgender patients. His office, Allure Esthetic Plastic Surgery, offers a welcoming and affirming environment for transgender, non-binary, and gender non-conforming people. To learn more and schedule a consultation, call us at 206-209-0988. Patients can also reach out online through our website contact form and chat.