What is a Tracheal Shave or Chondrolaryngoplasty?
We Accept All Private Insurances
Many transgender women face challenges when it comes to how they present themselves to the rest of the world. Due to differences in male and female makeup, transgender women can struggle to find harmony in their identity and physical appearance. This can result in gender dysphoria and harm to one's mental well-being.
One prominent difference between male and female genetics is the Adam's apple. A tracheal shave can reduce the size of the Adam's apple and provide a smoother and feminine neck. However, not all tracheal shaves are successful, which can discourage the patient. A revision tracheal shave can fix any issues not addressed during the first procedure. It's a delicate procedure that requires incredible expertise and precision. Dr. Javad Sajan at Feminization Surgeries provides USA's leading revision tracheal shave.
What Is A Revision Tracheal Shave?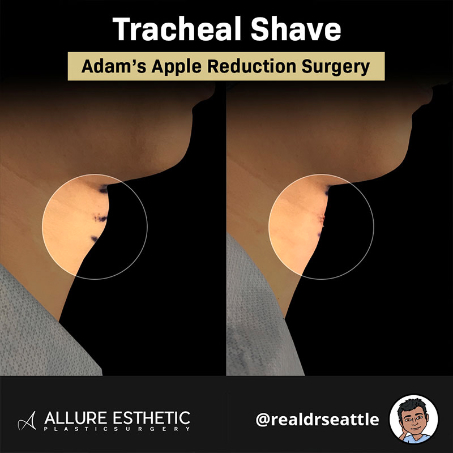 A revision tracheal shave is a follow-up surgery to a tracheal shave. It is only needed when the first tracheal shave doesn't reduce the appearance of the Adam's apple, excess cartilage remains around the area, or scar tissue has formed. Dr. Sajan helps patients find comfort in their appearance and can further a smooth, stunning neck for every patient.
Tracheal Shave Vs. Revision Tracheal Shave
The Adam's apple is a male-specific trait found in the neck. The Adam's apple is near the voice box, vocal cords, and essential nerves in the neck. It's made of thyroid cartilage with two wings on either side and fused together in the center. This central thyroid cartilage creates the protrusion known as the Adam's apple.
A tracheal shave surgically reduces the thyroid cartilage and reduces the appearance of an Adam's apple. It can create a more feminine neck and help alleviate gender dysphoria. However, a tracheal shave can be unsuccessful or create scar tissue around the original cartilage.
A -revision tracheal shave is performed when the first surgery leaves too much cartilage behind or scar tissue enhances the appearance of the Adam's apple. Due to the nature of the cartilage, it is a more delicate and precise procedure than a tracheal shave. The thyroid cartilage can become calcified and have scar tissue built up around it, which requires a more specialized process. Some key differences between a tracheal shave and a revision include: 
Tracheal Shave 

Revision Tracheal Shave

Initial surgery to reduce appearance of the colloquial 

Common procedure for transgender patients 

Usually utilizes a scalpel to shave down thyroid cartilage 

Easier recovery process   

Less risk but sometimes unsuccessful 

Secondary surgery to fix an unsuccessful tracheal shave

Less common and more complex surgery 

Requires a specialized microdrill to shave through tough scar tissue and hardened cartilage 

More extensive recovery process

More risks  
These are only a few differences between a tracheal shave and a revision. Dr. Sajan specializes in revision tracheal shaves for every transgender patient struggling to balance their identity with their appearance.
Why Undergo A Revision Tracheal Shave?
A revision tracheal shave, – is sometimes necessary when the first surgery is unsuccessful, leaving the patient feeling discouraged or unsatisfied with the results. This can occur when the surgeon does not remove enough excess thyroid cartilage, remaining cartilage is still prominent, scar tissue develops around the remaining colloquial, or scar tissue develops in place of the cartilage.
Transgender women face many challenges, and an unsuccessful tracheal shave can worsen their gender dysphoria. Dr. Sajan has the training, knowledge, and expertise to help patients gain their sense of self and present their true identity to the world. While a -revision tracheal shave may be more complex, it can also be life-changing with the right provider.
Revision Tracheal Shave Benefits
Any unsuccessful plastic surgery can be disheartening, but for transfeminine patients, it can be devastating. Eliminating the appearance of the Adam's Apple is often an essential part of their journey. A revision tracheal shave can restore hope and create feminine balance for many patients. Benefits of this procedure may include: 
Help overcome gender dysphoria 

May remove hardened scar tissue from the colloquial 

May significantly reduce the Adam's apple 

May correct an unsuccessful tracheal shave 

May eliminate excess thyroid cartilage 

May eliminate surrounding scar tissue 

May provide a  better sense of self and comfortability 

May increase confidence in one's appearance 

Can achieve the desired aesthetic goals from the initial surgery

Performed by the leading revision tracheal shave surgeon in Seattle, WA, US
Revision Tracheal Shave Process
Dr. Sajan must consult with every patient before a revision tracheal shave can occur. This consultation will allow him to ensure the patient can safely undergo the procedure and show him the specific complications each patient faces. Once he understands your goals, needs, and the colloquial issue, he can create a revision tracheal shave plan to suit your needs.
During a revision tracheal shave, -USA Dr. Sajan will use specialized drills to remove the cartilage and tissue effectively. A micro drill allows him to carefully eliminate the hardened scar tissue or calcified cartilage without significant bleeding risks. This highspeed neurosurgical drill helps Dr. Sajan systematically move through each layer of calcified tissue to reduce the Adam's apple. 
Occasionally, soft tissue also forms around the colloquial, which can pose a more considerable risk of bleeding. If this occurs, Dr. Sajan can use an ultrasonic piezo drill to eliminate any risk or damage to the throat. 
Revision Tracheal Shave -Safety
Finding a highly qualified and trained cosmetic surgeon is the key to safety during a revision tracheal shave. The provider must be precise, thorough, and exact to achieve optimal results. Additionally, they must consider factors such as: 
The location of the Adam's Apple 

The surrounding nerves, voice box, and vocal cords 

Internal and external scar tissue 

Critical structures surrounding the layers of tissue and cartilage 

The initial scar and how to avoid a thicker, prominent scar 
Dr. Sajan is highly experienced in revision tracheal shaves and ensures that every patient can safely undergo the procedure. Through dedication and precision, he can create outstanding outcomes. 
Frequently Asked Questions
Recovery from a -revision tracheal shave is more in-depth than the original procedure. It can include: 
An entire week resting 

Avoid lifting anything heavier than 10 lbs 

Avoid any extreme activity for a month 

Keep the head elevated

Take all prescribed medications
What Are The Risks Of A Revision Tracheal Shave?
While the risks are higher than a traditional tracheal shave, working with an experienced provider is the best way to ensure a smooth surgery. However, some risks include: 
Nerve damage 

Collection of blood or fluid 

Problems swallowing or breathing

Alterations to the voice  

Infection and bleeding 

Negative reaction to anesthesia 

Death  

Difficulty speaking

Other unknown risks
How Much Does A Revision Tracheal Shave Cost In the USA?
At Feminization Surgery, a revision tracheal shave starts at $9,995. The price can fluctuate depending on the surgical methods and necessary tools used during the procedure. 
How Do I Avoid Evident Scarring?
Dr. Sajan is highly trained in scar revision to help every patient avoid evident scarring. He can remove the superficial scar without creating an unwanted, harsh line. He can also instruct patients to help the incision site heal properly.
Feminization Surgery accepts all major and private insurance providers for a -USA revision tracheal shave. The only providers they do not accept are Medicaid or Medicare. Dr. Sajan can also work with every patient to find a financial plan for their surgery.
The Top Revision Tracheal Shave In USA
Dr. Javad Sajan leads Feminization Surgery with the patient's unique needs and goals in mind. His experience and precision in revision tracheal shaves allow him to help transfeminine patients regain their confidence and overcome gender dysphoria.
To learn more and schedule a consultation, call us at 206.990.0060. Patients can also reach out online via chat or contact form.