What is a Tracheal Shave or Chondrolaryngoplasty?
We Accept All Private Insurances
The process of gender transition from male to female (MTF) frequently includes a medical procedure called the chondrolaryngoplasty, more commonly known as a "tracheal shave." This surgical procedure reduces the cartilage of a patient's Adam's apple to create a smoother, less angular, and more feminine appearance. Tracheal shave surgery is delicate and calls for an experienced plastic surgeon like Dr. Javad Sajan.
Tracheal Shave Surgery | Adam's Apple Reduction
Certain facial features may make a person appear more masculine or feminine. However, no feature leads to more misgendering than the Adam's apple. A prominent Adam's apple is seen and mostly associated with cisgender men. Therefore, many transgender women find it necessary to surgically address the protrusion of the Adam's apple. A gender affirming procedure known as a tracheal shave is the standard for reducing the appearance of the Adam's apple. Dr. Javad Sajan performs the best tracheal surgery.
What Is Tracheal Shave Surgery?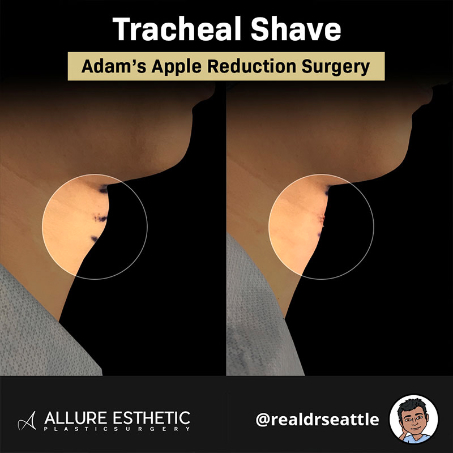 A tracheal shave surgery—sometimes called a Adam's apple reduction—is a gender affirming procedure that reduces the size of the Adam's apple. This creates a more feminine looking contour and can help reduce gender dysphoria. The procedure is performed under general anesthesia and is frequently part of a larger facial feminization surgery
Emergence Of The Adam's Apple
The Adam's apple is a small amount of cartilage located roughly in the center of the neck. This cartilage helps support the trachea and also protects the vocal cords. It is present in both men and women. However, someone assigned male at birth will see the Adam's apple grow and form during puberty.
The increased protrusion of the Adam's apple during puberty occurs because the larynx grows and expands. This contributes to a deepening of the voice as well. Someone assigned female at birth will also experience this but to a much smaller extent. This is why they usually do not have visible thyroid cartilage. Though cisgender women can experience protrusion of neck cartilage, it is much less common.
Due to the majority of cisgender men having an Adam's apple and most cisgender women not having a visible one, the Adam's apple has become a defining feature of perceived gender. While this is not entirely accurate, most cultures and societies accept the Adam's apple as a purely male feature.
Thus, it is understandable why this may cause trans women distress and gender dysphoria. Luckily, it is possible to reduce the protrusion of the cartilage without compromising its functionality with tracheal surgery.
A tracheal shave is generally considered to be a low risk procedure. Most patients find the minute risks of surgery worth it for the result. Dr. Sajan thoroughly and holistically evaluates each patient to determine their risk profile for an Adam's apple reduction. He will also discuss the benefits to the patient to help them a fully informed decision.
Some of the benefits of a tracheal shave include:
Reduced cartilage projection

Neck contour appears more feminine

Natural looking results

Helps treat gender dysphoria

Small incision

Short surgery

Permanent results

Minimal downtime and recovery

Easily combined with other feminizing procedures

Overall high satisfaction rate
The risks associated with tracheal shave surgery include many of the standard surgical and anesthesia risks. Though, there are also risks specific to an Adam's apple reduction surgery. Some of these risks include:
Infection

Visible scarring

Removal of too much cartilage

Fluid collection

Bleeding

Prolonged side effects

Skin necrosis
Overall, the risk of major complications during or after a tracheal shave is low. Some individuals may be at increased risk due to medical conditions, medications, or aspects of lifestyle.
Surgical Adam's Apple Reduction
The incision for a tracheal shave is generally made in the crease between the chin and neck. To reach the thyroid cartilage, Dr. Sajan will create a small tunnel to access the cartilage. He then uses a specialized burr to shave down the protruding cartilage. Dr. Sajan will target only the portions of the cartilage that protrude. This helps to produce good results without removing too much of the cartilage. 
The surgery usually takes under an hour to complete. Dr. Sajan will examine the new contours of the neck before stitching the incision to ensure symmetry and that the best possible results were achieved. Once closed with sutures, patients will slowly wake up from anesthesia and can go home the same day.
If the patient only underwent a tracheal shave, they can expect a fairly easy recovery. Patients can generally walk around and conduct basic activities without too much pain or difficulty. With that said, patients will still require time off work and need to take it easy. If experiencing worsened side effects such as swelling or bruising, patients should reduce activity and keep their head elevated when sleeping.
Dr. Sajan may recommend that patients rest their voice as much as possible to prevent pressure and movement in the area. A liquid diet may also be necessary for a day or two after surgery. Patients may experience some discomfort and post-operative pain. Dr. Sajan will prescribe pain medication for this, but many patients do not use it, or discontinue it after a couple of days.
If a patient underwent a full facial feminization procedure that included a tracheal shave, their recovery will be different and more intense. Some of the instructions provided above may still apply.
Does A Tracheal Shave Change Your Voice?
In theory, no, a tracheal shave should not change a patient's voice. However, this is one of the risks of the surgery. It is normal to experience some vocal impairment after surgery, but this should go away within two weeks. In rare cases where a tracheal surgery was performed by an inexperienced surgeon, it could lead to a permanent change.
A higher-pitched voice can surgically be achieved through gender affirming vocal cord surgery. Adam's apple reduction surgery should be performed before altering the vocal cords. Also, it is recommended that you see a surgeon who specializes specifically in gender vocal cord surgery such as a laryngologist.
Is Tracheal Shave Covered By Insurance?
Yes, most of the time a tracheal shave surgery is covered by insurance. This will vary by plan, company, and location. Dr. Sajan's office accepts all private insurance companies. Insurance coordinators also can help patients navigate their coverage and the process of working to get tracheal shave surgery covered.
Does Taking Estrogen Make Your Adam's Apple Smaller?
No, while hormone therapy can affect fat distribution, muscle mass, and skin, it will not alter existing cartilage. Therefore, taking estrogen or other forms of hormone therapy will not affect the size of the Adam's apple.
Is A Tracheal Shave Permanent?
Yes, removed cartilage cannot come back naturally. Therefore, the tracheal surgery changes to neck contour are permanent. Gender affirming procedures have low rates of regret. Patients are usually happy with the results of their Adam's apple reduction surgery.
The Best Adam's Apple Reduction Surgery By Dr. Javad Sajan
Dr. Javad Sajan is a Seattle plastic surgeon who specializes in gender affirming procedures of the face and body. Along with traditional top surgery for trans men and trans women, Dr. Sajan specializes in facial feminization surgery. He attended a prestigious FFS fellowship and has helped many patients feel more confident in their appearance.
To learn more and schedule a consultation, call us at 206-209-0988. Patients can also reach out online via chat or contact form.